Walton-on-Thames camera on green upsets residents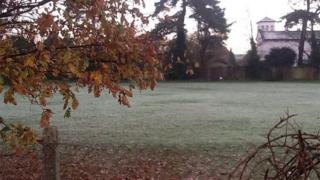 A charity has upset residents in a Surrey town after installing a camera on a tree on land used by the public without revealing its purpose.
The device was put up by the Walton Charity overlooking a green it owns off Rydens Road in Walton-on-Thames.
People who use it are angry because they had not been informed and want to know what images were captured.
The charity said it had installed the camera - which did not show identities - under plans to build on the land.
'Dispose of images'
The surveillance camera - which the charity said recorded only still images - was placed 14 ft (4.2m) up a tree overlooking the green, which has been historically used by people for recreation.
It has since been removed.
Residents claim the organisation was taking photos to monitor use of the area because they want to build on part of it.
One, Paul Holt said: "They are trying to prove it is not being used which is wrong because people are playing cricket there and using it for other recreation.
"At least what we need to have is assurance that any images that have been captured by people innocently playing about on this ground should be disposed of."
'Enhance site'
The charity said it used a professional company and the time-lapse film did not capture identities.
Jackie Lodge, Walton Charity chief executive, said it was planning to use 40% of the site for a building that could be used by other charities and the pictures were for a report on that scheme.
"This is a project we are undertaking for the good of the community," she said.
"We want to retain 60% of the site but we want to ensure that the site is maximised and enhanced.
"We are looking at a scheme for better trees, better planting, so the public can use it in the longer term."