Thousands see Kingswood raid Twitter reconstruction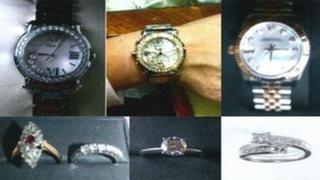 Detectives investigating a burglary in Surrey in which two women were attacked by a gunman are hoping a social media reconstruction will provide new leads.
A series of tweets one week after the raid in Kingswood reached 86,392 Twitter accounts and was viewed 1,083 times on Storify, Surrey Police said.
A woman in her 50s was punched in the face and a woman in her 20s was assaulted in the raid on 12 November.
Watches and diamond rings were among the items stolen.
The women were forced to remove their jewellery and made to open a safe.
Watches stolen
The women were taken to hospital with shock and minor injuries after the raid at the property near Kingswood Golf Club .
Using the hashtag #OpVesuvius, police tweeted the events of the afternoon of the robbery in real-time, in a bid to trace witnesses.
They also tweeted pictures of the stolen items, which included two Rolex and two Chopard warches and a Ballon Bleu De Cartier.
"Over the coming days officers are hoping the people will provide information on the aggravated burglary after seeing the appeal," said a spokeswoman.
It is the second time the force has used a social media reconstruction of a crime to help detectives.
In February 2013, detectives appealed for information about an armed robbery at Tattenham Corner, Epsom.
It was believed to be the world's first reconstruction of a crime on Twitter and reached approximately 53,000 accounts and had 350 views on Storify.
Father and son Terrance and Lewis Clark were jailed for the robbery in June this year.