Sign suggests mums breastfeed in toilet in Surrey cafe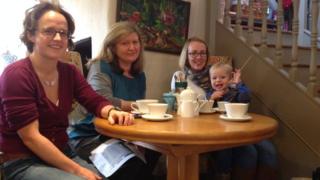 A cafe has caused upset with a sign suggesting breastfeeding mothers should sit in a toilet instead of at tables.
Tillings in Gomshall, Surrey, put up the sign that said it had a disabled toilet with a chair nearby which could be taken in for breastfeeding.
It went on to say it reserved the right to asks groups of feeding mothers to use it, which offended some parents.
Cafe owner Jane Radford apologised and said she wanted to work with members of the National Childbirth Trust (NCT).
'Huge miscommunication'
She invited members of the group to the cafe to discuss ways she could support mothers who wanted to feed babies themselves.
A picture of the sign - which said "we reserve the right to ask groups of breastfeeding mothers to use this facility instead of feeding at the table" - was posted on Facebook and Mrs Radford said as soon as she realised she took it down and issued an apology.
It said: "Tillings can only apologise for a huge miscommunication.
"We have have many, happy breastfeeding mothers in our cafe in the three years we have been open and we continue to support breastfeeding."
'We got it wrong'
Jude Palmer, an NCT member and doula, said: "My first reaction was 'this isn't great' but then I thought we should have a chat about it rather than getting on a bandwagon.
"It is really important that we support parents in however they choose to feed their babies and however they choose to parent."
Ms Radford said: "We have never asked anybody to stop breastfeeding.
"I can only reiterate that we got it wrong."
She said she wanted to encourage groups of mothers to book a table and use the cafe with their babies.