Chaos after section of M25 collapses causing long delays
Three lanes of the M25 in Surrey were closed all day on Friday after a pothole the width of one lane appeared at junction nine.
The road collapsed on the anti-clockwise section at about 05:00 GMT as concrete repairs carried out on Thursday failed to set in heavy rain.
Further repairs were carried out to the pothole, which measured 16ft (4.8m) long and was 11.8in (0.3m) deep.
The lanes between junctions 10 and nine reopened at about 04:00 on Saturday.
Surrey Police confirmed overnight that the lanes had been opened to traffic, "ready for Saturday morning shopping".
Airport warning
Surrey Police had said before the closure that motorists were left with shredded tyres caused by the collapse of the road surface.
One lane remained available for motorists, but tailbacks of up to 16 miles were reported with some caught up in the hold-ups who had been heading to Gatwick Airport missing their flights.
The West Sussex airport urged travellers to allow extra time for their journeys.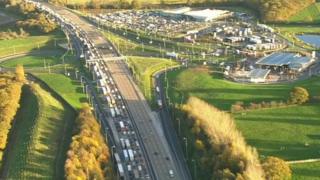 The Highways Agency said at 17:00 congestion was back to junction 11, for Chertsey.
A spokesman said: "Concrete repairs being carried out overnight failed to set.
"Maintenance crews had been working overnight to replace three sections of concrete road surface between junctions nine and 10.
"One of these concrete sections disintegrated and another section was showing signs of distress.
"We have people on the site repairing these sections and we will reopen the closed lanes as soon as it is safe to do so."
National Express tweeted: "All services between Heathrow & Gatwick Airports suspended until further notice. We are moving customers via London to Gatwick & Brighton."
The company posted on its website details of services that had been cancelled because of the M25 disruption.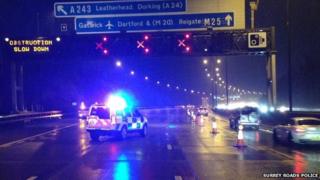 ---
At the scene
Adrian Harms, BBC Surrey reporter
I'm on a bridge straddling the M25.
What I'm looking at is a lot of Highways Agency vehicles with their yellow lights flashing.
The crosses are on the gantry across the road that denotes the exit to junction nine, and there are three red crosses showing that lanes one, two and three are closed.
The traffic is going past here in the outside lane - which is coned off - at a snail's pace.
A bit earlier on there was a lot of work going on. There were a lot of heavy plants here working on the hole, and from what I can see it looks as if maybe the work has finished.
It's been a nightmare. All the local roads seems to be really badly snarled up.
This has had a huge knock-on effect throughout the day and into this evening.
---
One resident who lives beside the M25 said her family had heard "very large, odd thuds, a bit like thunder at about 05:30.
"At one point our house was shaking and a piece of plaster fell out of the ceiling," she said.
"I don't know whether the thuds were the lorries hitting the hole or the road collapsing.
"It doesn't look enormous, but it is causing chaos."
''Road to hell'
Alex Goodwill tweeted: "Punctures galore thanks to pothole on M25 at Leatherhead."
AA president Edmund King said on Friday: "The M25 really is the road to hell today.
"There must be a thorough investigation into this incident.
"It is disappointing that not only did the road fail, but it placed many drivers in danger and also reportedly damaged a number of vehicles.
"If this happened on the railways, passengers could claim compensation.
"As it has happened on the roads, drivers just have to put up with it."
Travel
Check if this is affecting your journey
Roads minister John Hayes said: "Delays to the M25 are every motorist's worst nightmare so I would like to thank drivers for their patience today.
"As a driver, I know how frustrating it is to be stuck in traffic and unable to get to your destination on time.
"The Highways Agency will be providing me with an urgent report on what went wrong and in the meantime are doing all they can to get the motorway open and traffic moving."