Women attacked in Kingswood jewellery robbery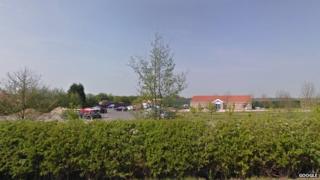 Two women had to be treated in hospital after being attacked by a gunman during a jewellery robbery at a house near Kingswood Golf Club in Surrey.
Surrey Police said a woman in her 50s was punched in the face and a woman in her 20s was assaulted in the burglary just before 17:45 GMT on Wednesday.
They were forced to remove their jewellery and made to open a safe containing more jewellery.
The women were taken to hospital with shock and minor injuries.
They have since been released. Another woman, also in her 20s, who was in the house near the Sandy Lane golf club, was uninjured.
'Dangerous and violent'
Det Insp Paul Gordon said police believed the house was targeted by the attacker, who was believed to have a firearm.
"The offender is clearly a dangerous and violent individual," he said.
He appealed to anyone who saw anything suspicious to contact police.
"I would urge anyone who either lives or runs a business in the area and who has CCTV on their property to make contact as this may hold footage vital to our investigation," he said.
The attacker is described as white, about 6ft 4in and stocky with a London accent.
He was wearing a black balaclava, black jacket and black leather gloves.