Al-Hilli family Alps deaths ruled unlawful killings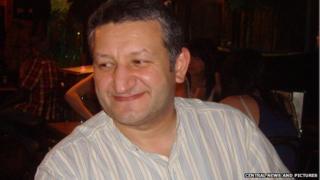 A coroner has recorded a verdict of unlawful killing into the deaths of three members of the same family who were shot dead holidaying in France.
Saad al-Hilli, 50, was shot with his wife Iqbal, 47, and his mother-in-law Suhaila al-Allaf on 5 September 2012.
Their two daughters survived the attack. French cyclist Sylvain Mollier also died.
Woking Coroner's Court heard Surrey Police detectives are continuing a murder investigation into the deaths.
Coroner Richard Travers said: "For me to return a verdict of unlawful killing I have to find, beyond reasonable doubt, that the person concerned was unlawfully killed.
"Having heard this evidence today, hearing of the victims' injuries and the purpose of their trip to that area of France, I am sure in respect of each person, and with no hesitation, to find that they were unlawfully killed."
Family holiday
The attack took place in a car park near Lake Annecy.
Mr and Mrs al-Hilli's two daughters were aged seven and four at the time of the attack, which took place in a car park.
The older daughter was shot and beaten while her younger sister was physically unscathed but traumatised after hiding under bodies in the car. Mr Mollier's body was found nearby.
Iraq-born Mr al-Hilli and his family lived in Claygate, Surrey, and were on holiday at the time of the attack, along with Mrs al-Hilli's mother, who lived in Sweden.
Mr al-Hilli's brother, Zaid, was arrested on suspicion of murder in June last year but was told in January he would face no further action.
More than 100 police officers in France and the UK have been involved in investigating the case and about 800 people have been interviewed.
In a statement issued after the inquest, Surrey Police said the force had provided support to the coroner and would continue to support the French investigation.
A spokesman said: "As part of the Joint Investigation Team, which was established following the deaths, officers from the Surrey and Sussex Major Crime Team have been working closely with the French authorities to progress a number of lines of enquiry in the UK.
"This is a complex inquiry, however Surrey Police remains committed to helping find answers to what happened and continuing to assist the French investigation wherever possible."