Horsham pupils make own ceramic poppy display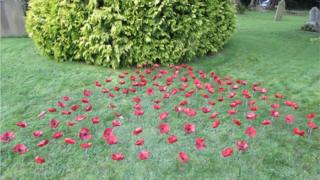 Inspired by the World War One poppy display at the Tower of London, pupils at a West Sussex school have been making their own ceramic poppies.
The children at Slinfold Primary School near Horsham, as well as teachers have planted them in St Peter's churchyard.
School governors, scouts, parents and members of church groups have also been involved in the project.
Laura Braun, from the school, said: "The Tower of London has been following our tweets."
The school said 180 poppies had been planted.