Charity provides cancer drug refused to Alice Dann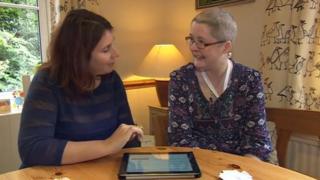 A Surrey cancer patient has begun treatment that was refused to her after an unnamed charity provided £80,000.
NHS England refused Alice Dann the drug ipilimumab because it said there was not enough evidence it would work.
More than 156,000 people signed an online petition calling for the decision to be changed.
Ms Dann's oncologist, Professor Michael Seckl, said there was a good chance the treatment could help. NHS England said it had to make difficult decisions.
The charity has asked to remain anonymous.
Ms Dann, a 47-year-old maths teacher from Frimley Green, has a rare pregnancy-related cancer - gestational trophoblastic disease.
She began treatment on Wednesday, six days after the charity contacted her.
Describing how she heard the news, she said: "It was sort of unreal. I just started shaking."
'Difficult decisions'
Professor Seckl said the antibody-based therapy allowed the immune system to better recognise cancers as foreign.
He said the tumour was made up of Ms Dann's and her partner's DNA, and he added: "That means we think there is a very good chance this treatment should actually make a difference."
An NHS spokeswoman said NHS England could not comment on individual cases but did understand the difficulties patients living with life-changing diseases and their families went through.
The NHS followed NICE Technology Appraisal Guidance and used clinical trial evidence in making these decisions, she added.
She said: "We wish Alice well for her treatment and recovery."