Redhill commuters demand London Bridge disruption discount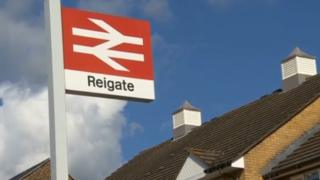 Commuters in East Surrey are demanding a 25% season ticket discount to compensate for disruption caused by the London Bridge station rebuilding work.
Refurbishments mean the 08:02 and 08:31 trains from Redhill are already being diverted via Victoria and from January the 06:56 and 07:51 will be axed.
About 540 people have signed a petition calling for a discount on season tickets, which cost up to £3,432.00.
Southern apologised for the disruption, but said it would not offer a discount.
Martin Loxston-Beed, who lives in Redhill and created the petition, plans to confront rail bosses later this month.
He said passengers would have to rearrange childcare and put up with more train overcrowding.
"People who currently commute in are going to find it nearly impossible to get a seat into London, they're [also] being asked to change at East Croydon station," he said.
"If you're pregnant or have some other type of situation you're going to find it very difficult. At East Croydon you're going to have to go upstairs and downstairs."
Southern said it had worked hard to timetable as many trains as possible into London Bridge.
'Strengthened previous services'
In a statement, the train operator said: "We will not be offering compensation for the removal of the train.
"We're sorry for the inconvenience removing this train will cause for the passengers who normally use it, but we have strengthened the previous service which arrives at London Bridge at around the same time.
"Redhill still has a good train service and in longer term will be among those who will benefit most from the longer trains Thameslink will deliver."
London Bridge station is being refurbished as part of the Thameslink upgrade next year.
The station will get new platforms, the UK's largest concourse, new lifts, escalators and entrances on Tooley Street and St Thomas Street.