John Lowe 'threatened to blow my head off'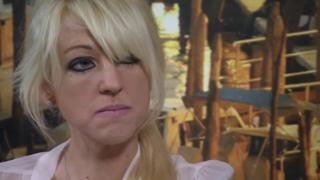 A woman whose sister and mother were shot dead at a puppy farm has described how their killer had previously threatened her with a gun and threatened to "blow her head off".
Stacy Banner said she "ran for her life" when dog breeder John Lowe made the threat the year before he shot her mother Christine Lee and sister Lucy Lee dead.
Guns belonging to Lowe were taken away by Surrey Police after Ms Banner reported she had been threatened, but were later returned.
Lowe, who was Christine Lee's partner, went on to shoot the two women at his premises near Farnham in Surrey, in February this year.
The 82-year-old has now been convicted of murdering the women, following a trial at Guildford Crown Court.
Ms Banner, of Aldershot, Hampshire, told the BBC Lowe had been in a relationship with her mother since Ms Banner was a child.
She said she was washing up in the kitchen last year when Lowe entered the room with a gun.
"He said he was going to blow my head off, so I ran - and I ran for my life," she said.
She called the police and made a statement.
Officers from Surrey Police seized a shotgun licence and a number of licensed shotguns from the property, Keepers Cottage Stud, in May 2013.
They returned them along with the permit two months later.
Ms Banner said she "wasn't shocked" at the killings, in light of her ordeal.
"I knew he'd do it," she said.
"The police should never have given an 82-year-old man seven shotguns back.
"What was the reason? There were hardly any animals there.
"So why did he need those guns? Why didn't they take a statement from him?
"Why wasn't he mentally health checked? Why didn't they do their job?"
'It was a massacre'
She added: "They didn't value my mum's life and they certainly didn't value my sister's life.
"Ultimately, they're dead. I will never, ever heal. Ever."
Following the shootings, Surrey Police said it was reviewing the return of the licence and had referred the matter to the Independent Police Complaints Commission (IPCC).
The IPCC has since said it is independently investigating the decision of Surrey Police to return the guns.
It revealed misconduct notices had been issued to three Surrey Police staff members.
'Stood over my mum'
"It was a massacre," Ms Banner said.
"He stood over my mum and killed her while she was cowering.
"I believe Lucy heard the shot. I believe she knew and she panicked and she ran... and then I think she thought she could help my mum.
"Like a normal person would think, 'I've got to help my mum, I've got to see if she's OK'.
"The problem with that is, it didn't give her a chance."
'All about power'
Describing Lowe as "evil and manipulative", Ms Banner said she thought he had killed the women "because my mum was leaving him".
"I think my mum had finally had enough," she said.
"She'd left him loads of times. I believe he actually thought 'you're not'.
"It was all about power, even the way he shot them, standing over them."
The IPCC said when the case was first referred the focus was on Surrey Police's prior contact with Lowe - the contact that had involved the seizure and return of the shotguns.
A statement said: "At this stage, the IPCC decided to carry out a supervised investigation led by Surrey Police who commissioned firearms experts from Hampshire Constabulary and North Yorkshire Police.
"The investigation looked into Surrey Police's decision to return the firearms."
Gun 'for killing rats'
But the IPCC said the report from the supervised investigation was completed last month and identified potential gross misconduct issues.
In a statement following the verdict, Surrey Police said the shotguns were returned to Lowe in July 2013 "following an assessment by firearms licensing officers".
It said initial findings from the two independent reports by firearms licensing experts had indicated the decision "was flawed and did not meet national standards".
"In light of these early findings we have spoken with members of Christine and Lucy Lee's family to apologise for this," the force said.
"Three Surrey Police employees remain subject to a gross misconduct investigation," it added.
During the trial, the jury heard Lowe had carried out the shootings with a legally-held shotgun he used for killing rats.
Ms Banner said: "He never used a gun to shoot a rat - he put down poison.
"In my whole life, I have never seen him shoot a rat, ever."
Lowe had previously come to the attention of the RSPCA and Waverley Borough Council.
The animal welfare charity and other agencies had made several visits to the farm over a number of years.
The BBC's Inside Out programme had also investigated Lowe in 2004 and 2008 amid claims he was breeding dogs and selling puppies in poor condition.
The council had run two animal welfare investigations that led to two prosecutions and action to stop him breeding dogs illegally.
In 2005, Lowe admitted six breaches of licence conditions under the Breeding Dogs Act 1973 and faced both a fine and two-year disqualification.
A further investigation in 2008 saw him convicted of illegally breeding dogs - he paid fines and costs totalling £11,000 and was again disqualified, this time for five years.
At the time of the shootings, the council said there were no ongoing investigations into the 82-year-old.