Picasso print helps preserve Weybridge church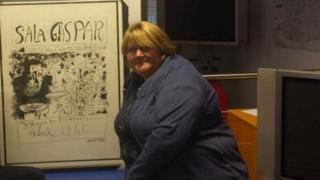 A donated print by Pablo Picasso has helped a Surrey church to raise more than £6,000 to preserve its Victorian Grade II* listed building.
The signed print, Sala Gaspar - Three Drinkers, from a run of about 600 made in 1961, was given to fundraisers at St James's Church in Weybridge.
It was sold for £475 during a "time and talents" auction at the church on Saturday that raised £6,000.
"People were exceptionally generous," said organiser Alison Biggs.
"We were very pleased with that bid."
£20,000 project
The Picasso print was donated by Globe Gallery in Weybridge.
Similar artwork normally sells for between £300 and £1,000.
Ms Biggs said she believed the buyers were going to put the Picasso in their sitting room.
The parish church was designed by architect John Loughborough Pearson in the 1840s to replace the church of St Nicholas, which had stood on the site for hundreds of years.
Ms Biggs said the money raised at the auction would help pay for £20,000 worth of work to the outside of the building which was starting on Monday.
"It's a constant need with a Victorian building to maintain and keep it preserved for future generations," she said.