Farnham 'gridlock' bid as drivers protest over housing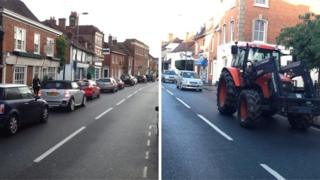 Campaigners fighting plans for housing developments across a Surrey town have tried to create gridlock by putting extra rush hour traffic on the roads.
A residents' group in Farnham aimed to get about 200 drivers to take part.
BBC reporter Adrian Harms estimated about 100 joined in, but said people found the traffic no worse than usual.
Waverley council, which is considering a target of nearly 8,500 more homes by 2031, said it could not comment while the local plan was in progress.
The council has put four scenarios forward, which would all see houses built on green belt sites in Farnham, Godalming, Cranleigh, Haslemere and some villages.
'Areas threatened'
Drivers taking part in Friday's protest in Farnham particularly targeted a planned Taylor Wimpey development of 120 homes.
Taylor Wimpey said it had prepared a high-quality application to provide much-needed housing, while Waverley council said it could not comment before councillors had considered the plans.
But the North West Farnham Residents Association, which organised the protest, said members objected to plans across Farnham, not just the Taylor Wimpey scheme.
"Many other areas are threatened and any one of them could cause major problems for the whole of Farnham," it said.
John Williamson, a residents' association member, said: "All we're trying to demonstrate is the cumulative effect of the potential building that is proposed."
He said he understood new homes were needed but said they should not be on greenfield sites in and around Farnham, but rather brownfield sites such as Dunsfold Aerodrome where developers were keen to build housing.
Organisers of the protest notified the emergency services and also asked all drivers to comply with the Highway Code.