Betchworth roadworks 'cutting trade by 40%'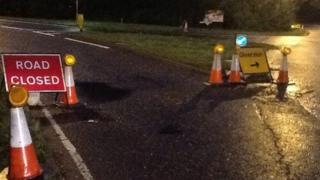 Businesses in a Surrey village are complaining that trade is 40% down because of road closures while an ageing water main is replaced.
Pebble Hill Road, in Betchworth, has been shut since 8 September and Sutton and East Surrey Water say work will continue until January.
"People are avoiding the area because of the traffic - it's taking an extra 35 to 45 minutes," said Wayne Wisbey.
The water company said it would discuss compensation with affected businesses.
The £1m project is replacing mains pipes dating back to 1892 which have suffered leaks and bursts in recent years.
'Turning down orders'
Mr Wisbey said his floristry wholesale company, Something Special, was having to stay open an hour later in the afternoon to allow customers extra time.
"We average about 35 to 40 customers a day normally but we are down to 20 a day," he said.
"The local florists I serve are turning orders down where it is taking them too long to come and get supplies they need.
"Because it is the Christmas period I am hoping we can withstand this.
"But it goes along the chain - Reigate is under so much pressure if you need to go anywhere you need to think twice."
He said traders felt Sutton and East Surrey Water should work at night and weekends to get the work finished sooner.
Ahead of schedule
But the company's operations director Lester Sonden said residents did not want overnight working, which also raised health and safety issues.
He said the work was currently ahead of schedule.
"Compensation is normally available," said Mr Sonden.
"A loss adjuster would go in and discuss the company's business and look at their records with them and come to some agreement."