Staines-upon-Thames 'facing no Christmas lights'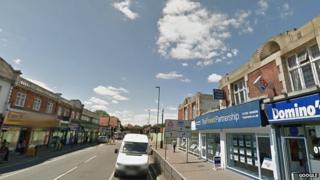 A Surrey town faces the prospect of having no Christmas lights after a fundraising appeal raised just £250.
Spelthorne Council bought the lights for Staines-upon-Thames and paid for their installation, removal and storage for a three year period.
Now that time has come to an end, the council says there is "simply no on-going budget".
Appeals to businesses to fund the installation costs failed to make a dent in the £7,500 to £10,000 needed.
Councillor Colin Davis, chairman of the council's economic development committee, said the "apathy" of major and smaller businesses had been "nothing short of appalling".
He said: "These businesses benefit directly from Christmas lights, it is wholly unreasonable for a council facing the prospect of cuts to services to be expected to pay for what is in effect the advertising required to increase footfall during the festive season."
Spelthorne Business Forum ambassadors Alex Tribick and Graham Sturdy have now set up Business 4 Staines-Upon-Thames, along with Jamie Jamieson, the speaker for Staines Village.
Mr Tribick said the group would now lobby 180 businesses to try and raise the money.
Mr Sturdy, who runs the Old Town Hall pub, has offered to provide storage for the lights.
Mr Tribick said: "The sum total of £250 has been raised which means that Spelthorne has the prospect of its principal town not having any Christmas lights on the High Street and on Clarence Street.
"It would be a crying shame if Staines-upon-Thames businesses failed to step up to the mark and make a modest contribution which ultimately is going to benefit them."