Sheerwater demolition residents 'will not move'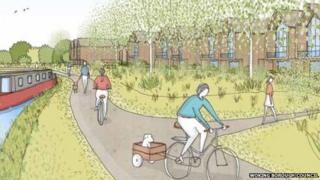 Residents of 600 homes that could be demolished as part of a Surrey regeneration scheme have said they will not move at any price.
Woking council wants to bulldoze Sheerwater estate, which has homeowners as well as private and social housing tenants, to build 300 new homes.
"The whole of our community is going to be destroyed and people are very, very upset," said resident Louise Kenrick.
Councillor David Bittleston said there was no intention to force people out.
"We have identified a series of needs for Sheerwater and this regeneration project, if it gets council approval, will bring £13m worth of community assets to the area, which are desperately needed," he said.
Compensation package
The new estate would have a retail centre, leisure centre, sports facilities, park, public square, community facilities and better transport links.
Mr Bittleston said residents would be offered a package of compensation, which had yet to be decided, and he hoped the council would not have to use compulsory purchase orders.
Barrister Simon Wood said the council had a legal obligation to rehouse people with secure tenancies in suitable accommodation.
But Ms Kenrick said many families had roots going back to when the estate was built to house Londoners after World War Two.
'Blitz spirit'
"You can't put a price on some things," she said.
"I could give you 100 residents whose families moved down from London after the war so we have this inherent blitz spirit driving through us.
"We are not moving at any price."
Mr Bittleston said public meetings would be followed by a discussion by the full council in December or January, when it would decide whether to submit a formal planning application.
"The conversations we have had in Sheerwater suggest that 60% of people who have engaged with us are in favour of the regeneration," he said.