Egham flood-hit families 'still homeless'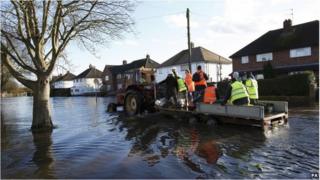 About 40 families from Egham are still waiting to return to their homes seven months after floods hit Surrey.
Runnymede Borough Council has said one or two of the council-housed families may not be able to move back at all.
Peter Taylor, chair of the housing committee said out of 80 properties flooded, 28 families had returned and 11 had chosen to move elsewhere.
He said most of the 41 families who remained would be back in their homes by November.
Some families would not be able to return to their homes, he added.
He said: "There may be one or two where we have to decide to do something a little bit more drastic."
But he said plans were not yet in place for that and he could not give further details.
Resident Steve Wilkins, who lives in Roundway, said the community had "disappeared" from his road and 80% of the street still remained uninhabited.
He said the empty properties were all owned by the council.
He was able to move back in because his home was privately-owned and insured, he said.
"There doesn't seem to be any progress whatsoever," he added.
"The plaster is still off the wall and people's effects are still in skips in front of my house."
Mr Taylor said work had taken longer on the houses in Roundway because of their construction.
"What they are is basically cement houses rather than brick houses and those are taking us a little bit longer," he said.