London Bridge work brings 'commuting hell' to Reigate and Redhill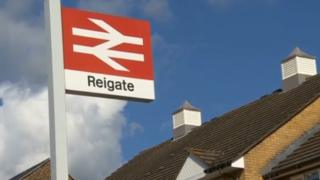 Travellers from East Surrey will face four years of "commuting hell" during work to rebuild London Bridge station, a rail users' group has said.
The refurbishments mean the 08:02 and the 08:31 from Redhill have already been diverted via Victoria.
Southern says that from January the 06:56 and 07:51 will be axed and the 07:40 from Reigate will go to Victoria.
The train company said it had worked very hard to timetable as many trains as possible into London Bridge.
Largest concourse
London Bridge station is being refurbished begins as part of the Thameslink upgrade next year.
The station will get new platforms, the UK's largest concourse, new lifts, escalators and entrances on Tooley Street and St Thomas Street.
Work, which began in 2013, will affect Southern, Thameslink and Southeastern services until 2018.
Stephen Trigg, from Reigate, Redhill and District Railway Users' Association, said East Surrey commuters would suffer unfairly because of the disruption.
'Added stress'
"The biggest change is that there are going to be only five trains in the morning peak to London Bridge instead of the usual nine and they are all going to be slower trains," he said.
"It is a pretty sharp cut and its not replicated across the rest of the network.
"It adds to the stresses of commuting.
"Four years of commuting hell is not really fair."
Southern said the refurbishment of London Bridge imposed constraints on service capacity.
"Ultimately, the completion of the Thameslink programme will bring more capacity and more trains to stations in East Surrey, but in the short term there will, unfortunately be a reduction in capacity," it said in a statement.