Objections over Ewhurst homes near charity rural retreat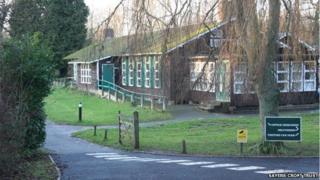 Hundreds of people have objected to a plan to build homes next to a charity's rural retreat for children.
The Sayers Croft Trust said there had been overwhelming opposition to the Thakeham Homes development of 27 executive homes in Ewhurst, Surrey.
Council officers have recommended Waverley councillors approve the plans despite the objections.
Thakeham Homes said it was working closely with the community but officers said there was "deep concern" locally.
The authority received 443 complaints about the scheme.
Sarah Miles, the trust's community education manager, said: "With so many objections from local residents, businesses and the parish council the fact that the planning officers are recommending approval is very worrying."
'Centre could close'
The centre, built in 1939 so city children could visit the countryside, provides outdoor experiences to about 20,000 children each year.
Trust director David Quoroll has said housing, lights and noise next to the retreat would change the experience and the centre could close with the loss of about 40 jobs.
Council papers said the development would be on green belt land and previously-developed land would be preferable but there were not enough sites to meet housing demand over the next five years.
A report said the Cranleigh Road scheme would "urbanise" the landscape and generate traffic, but would have a less-than-substantial harm to Sayers Croft.
Officers said the benefits outweighed the disadvantages because of housing needs.
A council spokesman said officers' views were expressed in the report, which councillors would consider at the meeting on Wednesday.
Robert Broughton, managing director of Thakeham Homes, said: "We appreciate the heritage and historical importance of Sayers Croft as a key asset to the local area, and if in any way the proposals would affect this, we would not be going forward with the proposed development."
Mr Broughton said under the plans, Sayers Croft could remain a safe, beautiful site offering a quality, outdoor experience and neither homes or jobs would be put at risk.
Thakeham was keen to work with Sayers Croft to address any concerns, he added.