Villages protest at noise from Heathrow flight path trials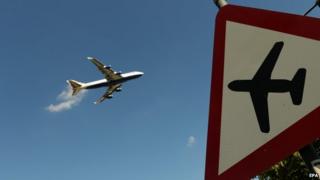 Hundreds of people in three Surrey villages say increased noise from Heathrow is depriving them of sleep and disturbing all aspects of daily life.
More than 400 from Lightwater, Windlesham and Bagshot have signed a petition against trial flight paths.
"It is not the aircraft noise per se, it's the increase in aircraft noise that these trials have brought," said Lightwater resident Rosalie James.
Heathrow said feedback from the trials would inform future use of airspace.
'Windows rattle'
Trials of the new flight paths, driven by the government's Future Airspace Strategy (FAS), will continue until January 2015.
The new routes have already sparked protests in Ascot, Bracknell and Sunningdale, in Berkshire.
Gatwick has also trialled new flight paths, to opposition from residents of villages in Surrey, Sussex and Kent.
Bagshot resident Mike Seaton said the village was now affected by aircraft noise from 05:30 to 23:00 BST, which stopped people sleeping and enjoying their gardens, and rattled the windows on his 120-year-old cottage.
"We would really like to go back to our pre-trial noise levels," he added.
"We have never been impacted in this way in the nine years I have lived here."
'More predictable noise'
The three villages and the Berkshire protesters will meet Heathrow representatives on 15 October.
In a statement, Heathrow said modernising airspace would bring more predictable noise respite through alternating routes and steeper departure paths.
"By running the trials now and talking to people affected by them, Heathrow and NATS [National Air Traffic Services] can use this feedback to inform the future design of airspace before a public consultation in 2016," it added.
"These are just temporary changes and no permanent changes to flight paths will be made before everyone has an opportunity to have their say."