At-risk Guildford Cathedral reaches funding milestone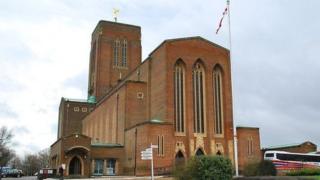 The campaign to restore a cathedral at risk of closure has raised enough money to secure a grant from the Heritage Lottery Fund.
Guildford Cathedral needed to raise £1.3m before it could apply for £4.5m from the lottery fund.
The cathedral has said it was "at serious risk of closure" due to the deterioration of the plaster on the ceiling vaults containing asbestos.
The fundraising is part of a £7m appeal to protect the building.
The cathedral said the money is needed to save the building, and "equip it to meet the challenges of the 21st Century", including improving disabled access, installing new lighting and a sound system, and making its archive materials more easily available to the public.
The next phase of the appeal will be to raise money to pay for the refurbishment of the organ.
The cathedral, which featured in the 1976 horror film The Omen, attracts 90,000 visitors a year.