National Trust celebrates 100 years of Box Hill ownership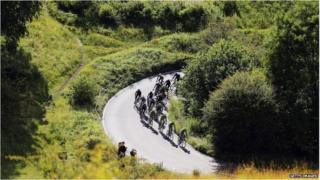 Celebrations to mark 100 years since Box Hill in Surrey was donated to the National Trust have begun.
Ninety-four hectares of the hill - which was the focus for the 2012 Olympic cycle road race - was donated to the trust in 1914 after being purchased by Leopold Salomons.
Subsequent purchases have resulted in the trust now owning 490 hectares.
The hill was also made famous for being the location of a picnic in Jane Austen's novel Emma.
A film and display about the area, commissioned by the Friends of Box Hill, opened earlier at the top of the hill.
And Salomons memorial at the Box Hill viewpoint is also being refurbished and will re-open later this month.
David Kennington, general manager of the Surrey Hills for the trust, said: "Box Hill is the jewel in the crown of the Surrey Hills, loved by all, cherished and looked after by the National Trust."
And Lyn Richards, chairwoman for the Friends of Box Hill, said: "If it wasn't for Leopold Salomons then Box Hill wouldn't be as we know it today.
"That's very significant and it's worth celebrating."