Concerns over Walton-on-Thames cycle path safety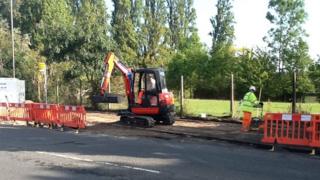 Concerns have been raised that new cycle paths in part of Surrey could be dangerous because cyclists will share space with other road users.
Work on the £1.5m project recently started around Walton Bridge in Walton-on-Thames.
Opponents claim the paths are unsafe and will cause more congestion.
Surrey County Council said cyclists will be segregated from other traffic and separated from pedestrians by metal studs.
The funding for the new paths, in Walton and Leatherhead, came from a £40m Department for Transport fund to improve the safety of cyclists across the UK.
Chris Gerhard, who cycles from Walton to Reading three times a week, said: "They're not building a cycle path, they're building a shared use path."
He said the layout would bring cyclists into conflict with pedestrians.
Duncan Knox, road safety manager at Surrey County Council, said the design along some streets had been amended to increase the level of segregation following a public consultation last year.
He said the road in Church Street would be narrowed, reducing the time pedestrians would spend crossing the road, which would reduce delays to traffic.