Britten's Pond nears end of 10-year improvement project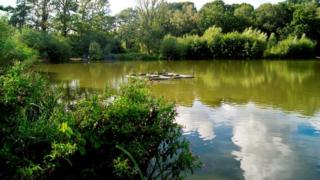 An open day is being held at a Surrey pond which is in the final phase of a 10-year project to improve its condition for fish and other wildlife.
Britten's Pond, at Whitmoor Common, Guildford, has been used for fishing by Guildford Angling Society since 1883 but has become silted up.
Surrey Wildlife Trust said poor water quality had affected fish and wildlife.
The trust said the public were invited on Sunday to learn more about the pond and the improvement project.
Retain embankment
The pond is part of Whitmoor Common Site of Special Scientific Interest, the Thames Basin Heaths Special Protection Area and the local drainage network.
Improvements have been taking place in three phases.
To date, they include work to retain the embankment, re-establish the control weirs and enlarge the main pond.
The third and final phase, which is now in the planning stage, will include removing silt to improve the fishery and increase wildlife and biodiversity.
The removed silt will be used to enlarge islands in the pond and, create wetland areas for marginal vegetation such as reeds, and create a larger recreational area for visitors.