Surrey heath habitat improved for tiger beetle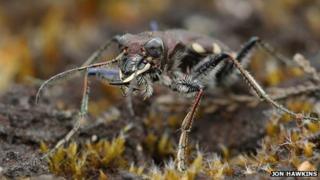 A project to create habitats for a species of beetle that has seen a 60% decline in numbers in Surrey has received a funding boost.
The Surrey Wildlife Trust (SWT) is to receive almost £19,000 for phase two of its heath tiger beetle project.
The project will create the bare-ground habitat required by the 19mm predatory beetle.
Phase one saw the re-introduction at various sites in Surrey and West Sussex, a trust spokesman said.
It said numbers of heath tiger beetles in Britain had more than halved in 25 years, with a 60% loss of Surrey populations.
The beetles are also found in Hampshire and Dorset.
The grant of £18,805 has been awarded by the SITA Trust, which funds projects affecting the natural environment and community life.