Calls for Surrey towns to be part of London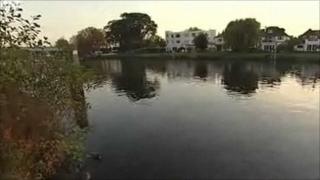 Business leaders in Surrey have backed a suggestion that areas of the county should become part of London.
Spelthorne Business Forum was part of a campaign to change the name of Staines to Staines-upon-Thames two years ago.
Now the forum has backed proposals that parts of Surrey closest to London, including Staines-upon-Thames, become part of the capital.
Planning consultant Barney Stringer has asked whether it is time to redraw the London map.
Alex Tribick, from the business forum, said zone six of London's fare system should be expanded to all Surrey stations within the M25.
He said Surrey residents outside zone six faced difficulties and cost rises and, from an economic perspective, the move "ticked all the boxes".
"It will make a difference to people who every day make their way into town, and will have an effect on all residential and commercial property prices," he said.
"It will also have the knock-on effect of making it desirable to commercial organisations being prepared to relocate their business from the exorbitant business rate area of central and west London to somewhere far more green and leafy like Staines-upon-Thames, which is part of the reason we renamed the town."
'M25 mental boundary'
Mr Stringer, from planning consultancy Quod, said London's population was heading to more than 10 million, the city had housing pressures, and suggested surrounding areas could help.
The M25 was the "mental boundary" to London for many people and Epsom, Elmbridge and Spelthorne boroughs were already dependent on London for jobs with high commuter flows, he added.
But Surrey politicians object to the plan.
Epsom and Ewell Residents Association borough councillor Clive Woodbridge said people valued their semi-rural community with its green, open space.
Eber Kington, a Residents Association county councillor for Epsom and Ewell, said any change would see the area lose its identity and built on by city planners, and extending zone six was a decision for the rail companies, not London politicians.
Conservative county councillor Denise Saliagopoulos, who represents Staines-upon-Thames, said she could see no benefits other than negotiation over use of the London Underground.