Bike ride to remember RideLondon cyclist Kris Cook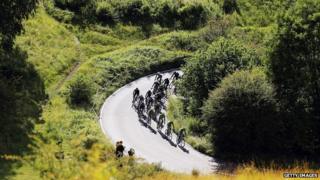 A bike ride in memory of a Woking cyclist who died during the RideLondon event, will take place on Sunday
Cyclists will head from the corner of the A246 and A25 to Newlands Corner, near Guildford, a week after Kris Cook died during the RideLondon-Surrey 100.
The section of the course was the final part completed by the 36-year-old civil servant, who had a cardiac arrest at the top of the climb.
Over £39,000 has been donated to his fundraising page.
The gathering, which begins at 09:00 BST, has by organised by Mr Cook's girlfriend, Nicola Tait, along with friends of the couple.
Karen Sutton, who was a member of the group riding with the 39-year-old to raise funds for Woking and Sam Beare Hospices, said it had been a "very emotional time".
More than 20,000 people took part in the Ride-London Surrey 100 which had to be cut short because of poor weather.