Guildford High Street to be re-laid at £1m cost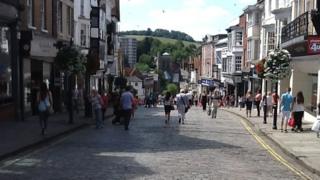 The cobbles on Guildford High Street will be re-laid at a cost of £1m, the borough council has announced.
The work, which will involve specialist contractors digging up the entire road and laying new sets, could take up to four years to complete.
The council said it was cheaper in the long term to repair the "iconic street" in one go and would encourage more tourists to visit the town.
Some businesses have queried the cost and disruption it will cause.
The cobbles on Guildford High Street were first laid in 1864 but have deteriorated in recent years.
'A lot of money'
James Palmer, from Guildford Borough Council, said while minor repairs have been done, "a comprehensive one off repair scheme would save a lot of money in the long term."
He said the new sets were expected to last for a minimum of 20 years and discussions with local businesses will be held to keep disruption to a minimum.
The work could take up to four years to complete if done in sections but the council said it was looking at ways to re-lay the entire street within less than a year.
The chairman of Guildford Local Committee, Mark Brett Warburton, called the cobbled street "an iconic aspect of Guildford" which is "part of the shopping experience" and helped to attract tourists.
Some locals have questioned the amount of money being spent on the project.
Ben Darnton, who runs a record store in the high street said it was a lot of money and he believed the disruption caused by the works would affect his trade.
However, he admitted the cobbles "give Guildford its character" and said replacing the road was probably a "necessity".
The work will be paid for by Guildford Borough Council, the local committee and Surrey County Council.