Geese force M25 carriageway closure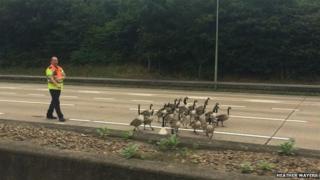 Traffic was halted on the M25 earlier after drivers spotted a flock of geese on the carriageway.
The birds landed on the anticlockwise carriageway close to junction 11 at Chertsey.
The entry slip road onto the motorway was closed for a time at junction 11, with traffic queuing to junction 10, several people reported on Twitter.
Lauren Mackenzie tweeted: "This is why we may miss my flight! Geese on the M25."