London 2012 Olympic cycle race 'faced late cancellation'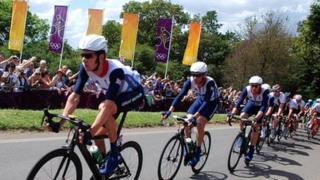 Olympic organisers were ready to cancel the 2012 men's road race a day before it was to take place due to inadequate security, it has been claimed.
Locog's venue manager for Box Hill in Surrey suggested a lack of guards meant the cycle race should be called off, the National Trust's area manager Andy Wright said.
The National Trust runs the Box Hill site where the race passed through.
The race went ahead after a last-minute decision to bring in the RAF, he said.
However, Mole Valley Conservative MP Sir Paul Beresford said he was "surprised" to hear the National Trust's claim and believed organisers would always have found a way to put the race on.
Security at the London Olympics had been thrown into doubt after security firm G4S admitted it would not be able to provide the promised number of staff.
'Glastonbury-style fence'
On 12 July 2012, the government announced that 3,500 extra members of the armed forces would be drafted in to provide security.
However, Mr Wright said discussions about security at the cycling venue were still taking place as the opening ceremony was happening and "the race was actually cancelled".
He told BBC Surrey the site had been given special permission to host a section of the race because "a huge Glastonbury-style ring fence" was erected in order to stop too many people being on the site and damaging Box Hill's orchids and wildlife.
The perimeter fence had to be protected by security personnel in order to keep it secure.
A day before the 28 July race, organisers were told guards who had been contracted to turn up at the venue would not be able to attend.
According to Mr Wright, "the venue manager said 'the event's off, unless we can protect this fence'."
'Robust contingency plan'
A last-minute decision to bring in RAF personnel to provide full bag searches at the site entrance freed up security staff from elsewhere in the venue, allowing them to be moved to the fence, he said.
London Olympics organisers and Surrey Police have not commented on the claims.
A spokesman for the Home Office said the games had been a "huge success" because "several years of testing and refining government and operational plans paid off".
The spokesman said "far-sighted planning by officials at the Home Office, Locog and other partners enabled a robust contingency plan to be swiftly rolled out" after G4S had said it could not meet its staffing commitment.
"Nothing was left to chance and venue security was maintained at all times," the spokesman added.
Kazakhstan's Alexander Vinokourov won the men's road race, which took place on the day after the 2012 opening ceremony.
Britain's Lizzie Armitstead won silver in the women's event held the following day.