Surrey County Council leader declines 59% pay rise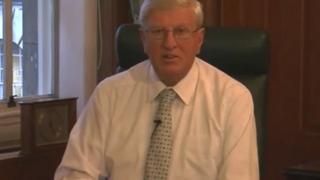 The leader of Surrey County Council has announced he will not accept a pay rise of nearly 60%.
David Hodge had faced criticism after the council ignored proposals from an independent panel in May suggesting a more modest rise.
Local government minister Brandon Lewis MP said that that decision had shown "contempt for hard-working families".
Speaking earlier Mr Hodge said he would now accept the panel's recommendation, and his deputy would do the same.
The ruling Tory group gave a 59% pay rise to Mr Hodge, taking his allowance from £27,000 to £43,000 instead of the recommended £35,548.
His deputy Peter Martin's pay rose by 60% from £19,500 to £31,250 instead of the recommended £30,333.
The panel resigned after its proposals were ignored.
'Personal decision'
Speaking earlier Mr Hodge said: " I understand and respect the decision made by council on allowances and the reasons for it and I agree with that decision.
"Nevertheless, at this moment I have made a personal decision to accept only the level of allowance recommended by the IRP [independent remuneration panel]. My deputy has made a similar decision."
Mr Lewis's critical comments came in a letter written to two councillors who both complained about the rise.
It read: "It is deeply concerning that the county council has chosen to act in a way which has not only prompted the resignation of their entire independent remuneration panel, but shows contempt for the hard-working families of the area who pay their council tax."