Second Old Reigatian Rugby Club arson attack in two weeks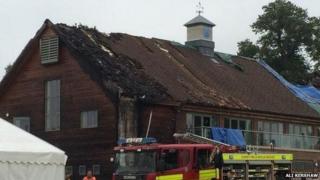 The second deliberate fire in two weeks has been started at a rugby club in Surrey, firefighters said.
About 20 firefighters were called to reports of the roof being on fire at the Old Reigatian Rugby Club just after 04:30 BST.
On 28 June, crews were called to a large blaze which badly damaged the first and second floors and the roof.
The fire is one of a series of arson attacks in Horley and Reigate in recent weeks.
'Shocked and bewildered'
David Forsyth, the club's chairman, said the fire was extremely upsetting.
"I'm as shocked and bewildered as anybody else," he said.
"It was the southern end of the building that was destroyed last time, it's the northern end this time.
"Somebody is intent on razing the building to the ground it would seem."
A fire at a property in Massetts Road, Horley, on Wednesday last week is believed to be linked to fires at the rugby club, Churchfields Bowls Club and Horley Lawn Tennis Club in the early hours between 22 and 28 June.
The tennis club, which was nearly finished after four years of fundraising, was destroyed.
Det Ch Insp Antony Archibald said officers were investigating a potential link between the latest fire and the others.
"This criminality causes misery and distress for those who run such community facilities and the people that use them," he said.
"It is also extremely dangerous and is potentially putting lives at risk."
He appealed for anyone who saw anything suspicious to contact the force.
A 43-year-old man was arrested on suspicion of arson in Epsom on 5 July and released on bail until 21 August, pending further inquiries.
Crimestoppers put up a £2,000 reward last week for information which leads to the arrest and charge of the culprit.