Man's jaw broken in Thorpe Park attack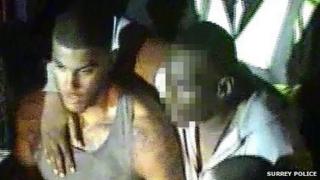 A man suffered a broken jaw when his party was attacked by five people at Thorpe Park in Chertsey.
The man and four others are believed to have been attacked by the group after leaving a Ministry of Sound club night at the theme park early on Sunday.
Police believe it followed an earlier altercation between the two groups in the park's 360 Bar.
The 25-year-old man sustained a broken jaw, a woman, 18, suffered an eye injury and a man, 24, a face injury.
They were taken to St Peter's Hospital by ambulance.
The attackers are described as three black men and two black women. The main aggressor was described as "very muscular" with tattoos on both arms, a Surrey Police spokesman said.
Officers are appealing for witnesses.