Redhill cycle race 'sabotaged' by drawing pin attack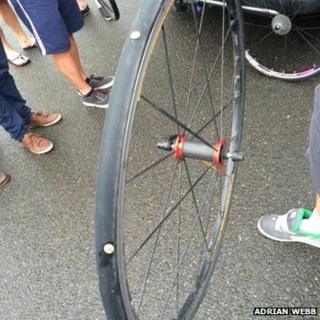 A cycle race in Surrey was "sabotaged" by drawing pins being dropped on the course, organisers have said.
Several riders had to abandon Saturday's Redhill Cycle Club road race after pins placed near Newdigate punctured their tyres.
Nobody was injured but race organiser Adrian Webb said the incident could have been "incredibly dangerous".
Surrey Police said it would prosecute anyone who deliberately put dangerous items on the road.
Redhill Cycle Club has cancelled some future road races in the area following the incident.
Mr Webb said deliberately puncturing the tyres of riders not only risked injuring cyclists who were reaching speeds of up to 37mph (60km/h), but also caused significant damage to bikes.
He said he knew of "at least three people who had tyres wrecked" and that repairs could cost in excess of £100 each.
Roads around Surrey have become increasingly congested with cyclists who are taking part in races or riding for leisure.
Areas used during the London Olympics, such as Box Hill, have proved particularly popular.
Mr Webb said the relationship between cyclists and local communities needed to improve.
"I think we can do more to help people understand when things are happening and the fact that the disruption will be very minimal", he said.
Rob Sharland, a cyclist who took part in Saturday's race, said that while he managed to avoid the pins, he had experienced incidents where cyclists were being targeted by other road users.
He said he was hit by an orange juice can that was thrown at him while cycling last year.
Some community leaders have blamed cyclists for antagonising locals.
David Preedy, leader of Mole Valley District Council, believes Saturday's incident "reflects the pressure on local communities due to the big increase in the amount of cycling".
He added that while situations where riders were attacked were "unacceptable", residents had complained to him about some cyclists behaving badly.
"We need active work by people like our MPs to get the national regulations changed so we can get a grip on this situation", he said.