Surrey police dog turns fugitive chasing deer on Witley Common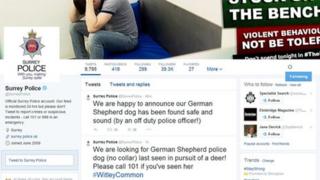 A police force has made a public appeal for an unusual fugitive - one of its own dogs which disappeared chasing after a deer.
A Twitter appeal for sightings of the German Shepherd was made after it made off on Witley Common in Surrey.
Local people joined in the search and the missing hound was found after 15 minutes by an off-duty police officer.
A spokeswoman said: "As with protocol, the dog was taken to a vet and it was identified as ours."
Helicopter overhead
Carl Tanner, 38, who runs a local Walk-A-Dog service, said a police helicopter had been hovering overhead in the area where it had disappeared.
"I had just finished work and was going to pick my daughter up," he said.
"I drove back home where the helicopter was hovering and spotted a police dog unit parked by the side of the road.
"The police officer wound down his window and I asked him if he had lost a dog.
"He said he had, that it was a German Shepherd last seen pursuing a deer."