Thirty-nine of Surrey's flood-hit bridges to be repaired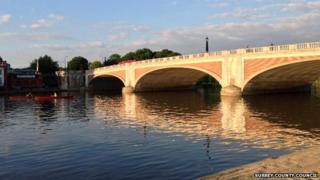 Thirty-nine bridges in Surrey which were damaged during severe floods over the winter are to be repaired as part of a £2m scheme.
Bridges that will be revamped include the Tilford Bridge, which was built in the 13th Century and crosses the River Wey, and Hampton Court Bridge.
Surrey Council said the repairs were part of a £23m flood action plan which is being undertaken in the county.
The Wey, Mole and Thames all burst their banks during the floods.
Thousands of homes were evacuated as heavy rain caused severe disruption throughout Surrey.
A total of 1,124 people had to be rescued from homes near the Thames which were inundated with water.
The River Wey also reached some of its highest levels in nearly 15 years.
More than 160 properties in Guildford and Cranleigh flooded after nearly 2.3in (60mm) of rain fell in one day.
John Furey, Surrey County Council's cabinet member for flooding recovery, said: "We're doing all we can to get Surrey back to its best after flooding hammered our county."
The council has not announced how the repairs will be funded but the Liberal Democrats, the opposition in Surrey, believe a large proportion will come from the government and EU.
Guildford and Onslow bridges have both recently been reopened after being damaged in the floods.
Other work being undertaken include a £1m scheme to clear trees and sand from the Wey.