Woking market move 'could shut down stalls'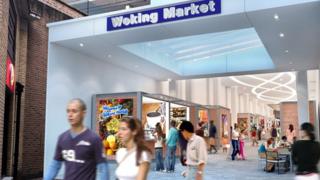 Stall holders at Woking market have said their businesses could close as a result of town centre redevelopment.
An indoor market has been built, but traders have said their rent will double if they move there.
They said they had also been asked to submit business plans in order to move, leaving them with an uncertain future.
Woking council said the new market would enhance the town. Developers said they were looking forward to working with new and creative retailers.
Sarah Lewis, who runs Lewis Pet Supplies, said: "[We were] really excited about it, only to be given the information about three weeks ago that we will be having dramatic rent increases, possibly not even be selected to move, and we have to write these business plans."
Pablos Moezi, who has had a watch and key-cutting stall for 22 years, said the rent, business rates and electricity bills were too high, and added: "It's just like having a shop. It's not like a market stall."
'Heart of town'
Woking council told BBC Surrey creating a new market would enhance the shopping experience for residents and visitors while complementing the redevelopment works in and around Jubilee Square.
A spokesman for the council said he was not able to comment on the levels of rent being charged, but confirmed traders had been asked to submit business plans and meet certain criteria.
He said the market traders were currently on the edge of the town, and the new market was in the heart of the town centre.
The developer Quarterbridge said it was looking forward to working with new and creative retailers to provide Woking with a 21st Century market home.
Woking has seen several regeneration schemes including a £10m redevelopment of Jubilee Square and a £200m revamp of Victoria Square.