Giant puppets for Magna Carta event in Runnymede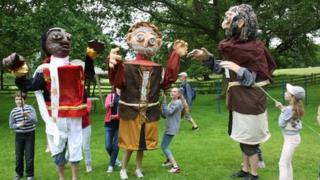 Eight giant puppets have taken part in a parade on the 799th anniversary of the sealing of the Magna Carta.
The Magna Carta, or Great Charter, was agreed at Runnymede on 15 June, 1215, and the county is preparing for an international event for the 800th anniversary next year.
The puppets were part of a parade along the meadows in the town after arriving on the river.
They represent historic individuals associated with the Magna Carta values.
Basic rights
Geri Silverstone, from The National Trust, said: "This really marks the one year to go for what will be a very historic event for Surrey's cultural heritage as well as the nation's cultural heritage."
The puppets were made by children from four schools in Runnymede.
Surrey County Council is bidding for more than £4.3m to fund events and attractions to mark the 800th anniversary of the sealing of the document by King John.
The authority said it wanted to ensure Runnymede was the focus of the national celebrations in June 2015.
The Magna Carta outlined basic rights with the principle no-one was above the law, including the king.