Surrey County Council bosses challenged by MPs over pay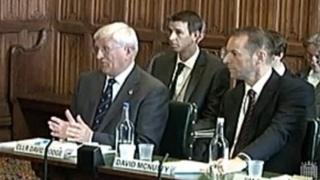 MPs have challenged the leader of Surrey County Council to justify up to 60% pay rises for councillors and senior officers.
Some cabinet members got the highest increase after ignoring more modest rises proposed by an independent panel.
The panel, set up to recommend allowances, resigned after its proposals were thrown out.
The council said pay had not been reviewed since 2010 and greater levels of responsibility had to be reflected.
'Above living wage'
More than 1,700 people have signed a petition urging the Conservatives to reconsider the decision to increase councillor allowances.
The Communities and Local Government Select Committee met on Wednesday to discuss the pay of chief officers across the country.
Surrey's chief executive David McNulty earns more than £200,000 a year while 15 other staff members earn in excess of £100,000.
The council's leader, David Hodge, opposed a recent resolution that would have given the most poorly paid workers in the council the living wage of £7.65.
Rochdale Labour MP Simon Danczuk asked him: "Why would you oppose giving the poorest paid workers a living wage and yet increase your own salary by 60% and give a load of cash to the chief officers?"
Mr Hodge said there had been increases for lower paid staff.
"We have a structure of pay that we pay people, in many cases most of our staff are on well above the living wage," he said.
Mr McNulty told the committee he did not believe any of the council's directly-employed staff were paid below the living wage.
"What the issue with the resolution was, it was asking us to do something that wasn't within our gift, because of the contractual arrangements," he said.
"Over the past three to four years, we've had a freeze on senior salaries so the total cost of the top 15 in the organisation has gone down because people who've left have been replaced by people on slightly lower salaries, and there's been a freeze for those posts.
"Meanwhile, for our lowest paid staff, we've managed to do small increases."