Farnham's Innsatiable 'free beer' furniture shop closed down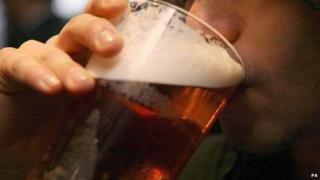 A furniture shop in Surrey which gave away free drinks while selling beer mats to customers has been closed down over breaches of licensing laws.
The closure order was granted against Innsatiable in Farnham which will remain shut until all alcohol has been removed, Surrey Police said.
The bar had been operating for several years with and without a licence.
When it opened it claimed to be a furniture shop where alcohol was given away free but furniture was sold.
Last September, Jeremy Hunt, MP for South West Surrey, accused Innsatiable's owner, Simon Atkins, of exploiting a legal "loophole".
Mr Atkins responded: ""We give them [customers] a free beer."
"If they want to buy a beer mat they can buy a beer mat, if they want to buy our furniture they can buy our furniture."
'Huge signs'
After complaints from local publicans and residents, the owner agreed to become a personal licence holder and the bar could be run legitimately.
However, following a number of police inspections, the licence was surrendered to Waverley Borough Council in October.
Innsatiable had continued to be run as an unlicensed bar until the closure order was issued on Tuesday, police said.
Posting on Facebook, Innsatiable said: "Moving forward, we will now display huge signs, explain that we don't sell alcohol to anyone... and have a clear price list of our wonderful and collectible beer mats.
"The battle was lost, but not the war."
A Surrey Police spokesman said: "Once all alcohol has been removed from the premise, the property may reopen."