Spelthorne memorial review after Sunbury plaque row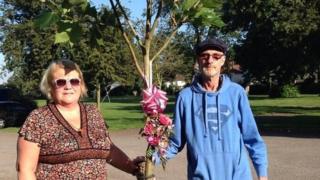 A council is to review its policy on private memorials in public places after a row erupted over a Sunbury couple's tribute to their daughter.
Tony and Julie Fuller's daughter Samantha, 28, died from an immune system disorder on Christmas Eve.
Mrs Fuller said Spelthorne council let them plant a tree in Cedars Park but said they could not have a plaque, because plaques "depressed people".
However, the couple put the plaque up anyway when they planted the tree.
Their case led to scores of comments being posted on newspaper websites.
Spelthorne council told BBC Surrey the comments had prompted its review of its existing policy and because a review was now imminent it would not be possible to comment further.
'Heart cut out'
Mrs Fuller said they wanted to have the plaque in a public place because they probably would not stay in their current house, and they wanted her daughter's friends and colleagues to be able to visit it.
She said losing her daughter had been like having her "heart cut out" and they wanted a way to remember her.
Mr Fuller said the council told him trees and benches were allowed, but not plaques.
But he said the couple planted the tree and put up the plaque anyway.
"The tree's here, the plaque's here, and certainly no-one's complained," he said. "Moreover, we see people reading it all the time."