Bhutto mansion in Godalming on sale for £10m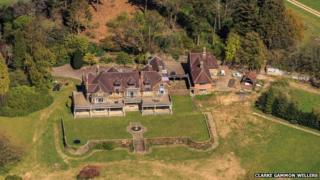 A house once owned by Pakistani Prime Minister Benazir Bhutto's husband could be knocked down and replaced following an auction next month.
The Rockwood Estate near Godalming, in Surrey, was owned by Asif Zardari, who became Pakistan's President after Bhutto's assassination in 2007.
There is no record of Ms Bhutto visiting or the couple living there.
Permission has been granted to redevelop parts of the estate, which has a guide price of £10m.
Ms Bhutto and Mr Zardari denied owning Rockwood during corruption investigations in Pakistan in the 1990s.
But in 2004, Mr Zardari suddenly admitted that it was his.
The property changed hands in 2005, but has not been used as a family home for more than a decade.
'Strange parties'
Estate agent Nick Freeth said it had an "interesting" past.
Video has appeared on YouTube of a "Secret Mansion" trance music party held there last summer and there have been reports of it being used as a venue for private sex parties.
"I understand there were all sorts of strange parties and goings-on that were held by some tenants who lived here for a while, but I don't think anything illegal went on and everyone seemed to have a good time," said Mr Freeth.
He added: "Over the last few months I have met a lot of people who seemed to know about these parties but nobody has actually admitted to going to one."
The house, built about 1910, has some original features including a wood-panelled study. Later additions include beaten copper doors, which Mr Freeth said probably came from the Middle East.
"It has held up quite well but if you wanted to bring it fully up to modern day standards you would have to spend several hundred thousand pounds," he said. "It is a very large house."
'Plenty of money'
The agents estimate it would cost about £13,000 a year to heat.
As well as permission to demolish the old house and build a bigger one and to convert a farm on the 360-acre estate to a country house, there has been consent in the past to convert a pool house to accommodation. There is also an airstrip on the estate.
Mr Freeth said there had been interest from the UK, the US, the Far East and the Middle East but it was difficult to predict who would buy it at the auction in Guildford on 4 July.
"I guess the answer is somebody with plenty of money," he said.