Woking dementia hospital 'must make urgent improvements'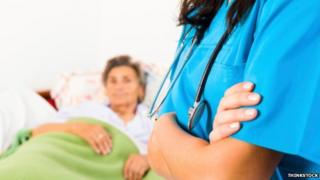 A community hospital in Surrey has been ordered to make urgent improvements after a report found it failed to meet any of the four national standards.
Woking Community Hospital was issued three formal warnings following a surprise inspection by the Care Quality Commission (CQC).
The hospital was accused of failing to protect patients with dementia on Willow Ward.
The NHS trust has apologised and said changes have now been made.
The CQC conducted the spot check in January after a previous inspection in August 2013 found regulations had not been met.
In the latest report, problems highlighted by inspectors included:
Patients had to shower in a cubicle without a curtain
Nurses were given too much work to do in too little time
Not enough activities were provided for patients
Staff talked to each other rather than with patients
Surrey and Borders Partnership, the NHS trust which runs the hospital, insisted improvements had been made since the latest inspection.
Director of Quality Jo Young said changes such as increasing the number of nurses on the ward meant the hospital could now provide better support for patients.
"I am now satisfied that we have completed these actions and am confident we provide a caring and respectful environment," she added.