Commissioner says 500 Surrey Police jobs at risk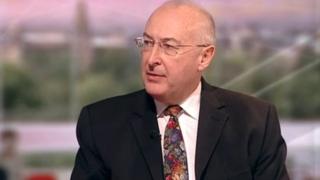 About 500 jobs could go at Surrey Police due to budget cuts, the county's Police and Crime Commissioner says.
Kevin Hurley said the force would have to save £30m out of its £200m budget, with wages forming a large part.
The former chief superintendent said the force had already closed "most" of its police stations to "make the books balance".
A Home Office spokeswoman said the force would still have the resources it needs.
Mr Hurley said: "The reality is that we have to save £30m of just over £200m.
"Most of our money goes on the wage bill, that means over the next four years we're going to be losing in the order of 500 people.
"Surrey people pay three and a half times more to the cost of their policing in their council tax than people who live in the north of England."
'Cutting crime'
A spokeswoman for the Home Office said: "Like all parts of the public sector, the police must play their part in helping to tackle the deficit.
"But there is no question they will still have the resources to do their important work.
"Surrey has shown an ability to make savings while still cutting crime - recorded crime is down by 21% since June 2010.
"Police and crime commissioners and chief constables are best placed to make decisions about the most effective use of resources and to ensure forces are delivering on the issues that matter in their areas."