High Down mentally ill inmates 'make jail like asylum'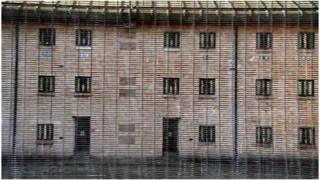 The inmates of a Surrey jail have been compared by the chief inspector of prisons to people who were once held in an old style asylum.
Nick Hardwick said people once held in Banstead asylum were "not so different" to those in HMP High Down, which stands on the ex hospital site.
He said many inmates were mentally ill and needed better treatment.
The NHS trust providing health care at the jail said it was introducing more services after receiving more funds.
Mr Hardwick said: "I grew up in Banstead and I remember the time when the Banstead lunatic asylum was operating.
"It's now a prison and one in 10 of the prisoners there are so ill that they are in touch with the prison's mental health services. And there are others who have a lot of mental health problems."
'A better way'
He said all prisons, not just High Down, increasingly held a high proportion of mentally-ill people.
"I think there needs to be a better way of dealing with those people than simply through the criminal justice system," he said.
High Down's last inspection in 2011 raised concerns about the number of prisoners subject to suicide and self-harm procedures who were held in the segregation unit, but found it provided a safe, decent environment for most inmates.
Calling for "a change of thinking" and more investment at a national level, Mr Hardwick said: "These are people who very much could be your son or brother or husband. And we have to see them as people who are ill or need care, rather than simply as criminals who need punishment."
He said he was not criticising the prison, but believed it was unreasonable to ask prison staff to do a health care job.
Surrey and Borders Partnership NHS Trust said it worked hard to deliver modern, high quality mental health services at High Down.
It said care provided by seven experienced mental health professionals included therapy, self help and medication where necessary.
The Department of Health said: "We want to make sure offenders with mental illnesses get the treatment they need as soon as possible whether that is in prison, the community or hospital.
"This is why we've invested £25m this year in liaison and diversion services at police services and courts across the country to identify people with mental health problems and make sure they get support early."