Man dragged from car and robbed in Horley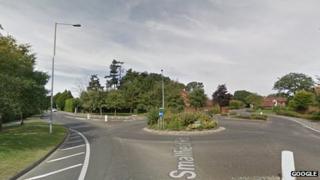 A man has been dragged out of his car and robbed by three men at a roundabout in Horley, Surrey.
The man left a betting shop in Victoria Road at about 22:15 BST on Friday and after stopping at a kebab shop drove along Smallfield Road.
Three men standing in the middle of the road at a roundabout at Wheatfield Way flagged him down and made him stop.
They dragged him out of the car and punched him in the face and kicked him in the chest before taking some cash.
The victim was taken to East Surrey Hospital where he was treated for facial and neck injuries.
Police have appealed for witnesses to come forward.