Three men hospitalised after taking mescaline in Chichester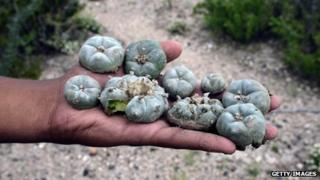 Three men were taken to hospital after they took a hallucinogenic drug used by some native Americans as part of religious ceremonies.
The three took mescaline, which is found in the peyote cactus in Mexico. The effects can last up to 18 hours.
The men, who live in St Christopher's Close, Chichester, and are 21, 20 and 18, were taken to hospital on Saturday.
Vomiting, headaches and feelings of anxiety are typical symptoms suffered by those who take the drug.
The 21-year-old was arrested on suspicion of possession and supply of a Class A drug.
Det Con Ceri Spratt, of Sussex Police, said: "These drugs are illegal and potentially lethal.
"We would urge people not to buy drugs from the internet, even so-called legal highs, and if anyone has information about the supply of these drugs to contact us immediately."