UKIP gains seats as Tories lose control of Maidstone council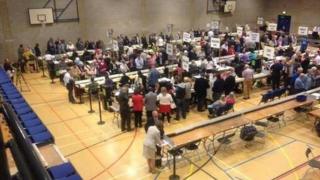 The Conservatives have lost control of Maidstone Borough Council while UKIP has gained four seats.
The Tories surrendered four of their nine seats up for election and lost their majority despite remaining the biggest party on the council.
UKIP leader Nigel Farage told BBC Radio Kent: "This is a big breakthrough."
The Conservatives held Tunbridge Wells, gaining two seats on the borough council, while Labour gained one and the Lib Dems lost three.
Tunbridge Wells now has 38 Tories, three Labour, three Lib Dems, two Independents and two UKIP councillors.
Leader of the Lib Dem group, David Neve, said: "It's very disappointing when you actually lose two really hard-working councillors.
"People perceive we have problems being in government so therefore they've defected away from us.
"It's an absolute crying shame."
In Maidstone, Labour took Fant ward from the Lib Dems, but were pushed into fourth place by UKIP in Coxheath and Hunton which was won by the Lib Dems.
The council now has 25 Conservatives, 19 Liberal Democrats, five Independents, four UKIP councillors and two from Labour.
Mr Farage said: "There are other parts of Kent - Tunbridge Wells and east Kent - where we've made some quite good breakthroughs over the last three or four years but this is the first step on the rung in Maidstone, so we're delighted.
"We let our councillors get on, work and co-operate with other parties to try to do the best they can for local residents.
"That formula has worked well in other parts of the country, it's certainly working well on Kent County Council, and I would expect Maidstone to be much the same."
The South East region will elect 10 MEPs in the European election, with the results being announced late on Sunday.