Arrested Guildford councillor 'racially targeted'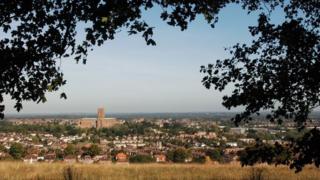 A councillor has been arrested on suspicion of pretending to be a barrister, it has emerged.
Councillor Monika Juneja, who is Guildford's councillor in charge of planning, claims she is being politically and racially targeted.
Ms Juneja was investigated after she declared she was a barrister on her register of interests but was found not to have completed her training.
An independent report commissioned by the council said she did nothing wrong.
Surrey Police said a woman had been arrested on suspicion of wilfully pretending to be a barrister, making and using false instruments, and misconduct in a public office and had been bailed until 2 July.
Ms Juneja said she had been targeted by people because of potential housing developments.
She had been overseeing plans to build hundreds of homes and potentially remove some villages' green belt status.
'Housing concerns'
She said: "I am sorry that people feel, certain people feel, that I have done something wrong.
"We all make mistakes. I don't believe the police should have been involved. I feel the council had done its investigation."
Claiming people had targeted her since October, she added: "These people could have come round and sat round the table and said 'look we are worried for our area'."
She said: "When you start coming round my house or sending the police round my house to my parents who don't deserve this for one moment, I think that there is a real problem and I think that problem really is politically and racially motivated.
"These people do not want housing anywhere near them."