Ex-Surrey Police chief inspector Tanya Brookes jailed for fraud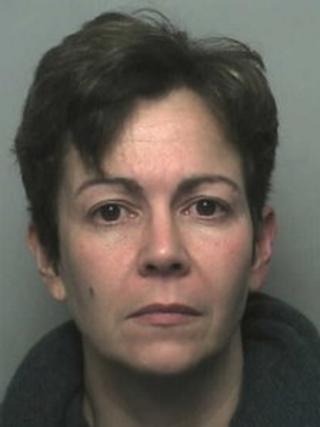 A former Surrey Police chief inspector has been jailed for a series of fraud offences targeting high street stores.
Tanya Brookes, 46, was condemned by a judge for bringing "shame" on the police service.
She was convicted of 25 counts of fraud and cleared of two at an earlier trial. She pleaded guilty to eight further offences in March. Other charges were ordered to lie on file.
At Winchester Crown Court Brookes was jailed for two-and-a-half years.
Brookes, from Nursery Road, Godalming, who had worked under her maiden name of Sillett, was suspended from duty after her arrest in January 2012.
She was later dismissed for misconduct.
'Tragic case'
The frauds involved household names including The White Company and Boots.
The court heard Brookes was not on duty when the offences were committed.
Nicholas Tucker, prosecuting, said she would buy items such as sheets from the White Company's outlet in Bicester, Oxfordshire, at a discount rate.
He said she would then falsify a bank statement on her computer showing that the full price had been paid, return the item to another branch and fraudulently reclaim the difference in price, often wearing her police ID on a lanyard around her neck.
Mr Tucker also described how Brookes fraudulently gained a £6,000 discount from a luxury holiday for her family by falsely claiming that she was a counter-terrorism officer at Gatwick Airport.
Passing sentence Judge Andrew Barnett said: "By your criminal activities, you have disgraced the uniform you once wore, you have brought shame on the force that you once served and you will have tarnished the reputation of the police service.
"The sentence I must pass must make an example of you to others that this kind of behaviour by police officers is thoroughly disapproved of by the courts and by society.
"The tragedy of this case is how you were hitherto of good character, the mother of four children who will suffer inevitably by what I have to do to you."
'Thrown it away'
Mr Tucker said how Brookes, who was married to another senior police officer, David, had joined the Surrey force as a university graduate and described her as a "high-flyer".
He said that it was as she was about to mark her 20 years' service in July 2011 that she became the subject of an investigation by the force.
The court was told that Mr Brookes had also lost his job as a superintendent as a result of the case.
Nicholas Yeo, defending, said that Brookes had suffered a brain injury prior to her offending and a psychiatric assessment had suggested this might have affected her behaviour and ability to make appropriate judgments.
"She has, in a very real sense, thrown it all away," he said.
"She was so harrowed by the investigation that she has ended up with the symptoms of post-traumatic stress disorder."
Assistant Chief Constable Gavin Stephens, of Surrey Police, said Brookes "should have known better".
"We expect the highest standards of conduct from all of our employees and this kind of behaviour has no place in Surrey Police," he said.