Zane Gbangbola: Poison theory over Chertsey flood-boy death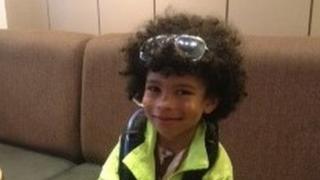 Lawyers for a couple whose son died during floods in Surrey are investigating whether the family's house was affected by hydrogen cyanide.
Zane Gbangbola, seven, died in hospital in February. His father, Kye Gbangbola, of Chertsey, remains paralysed from the waist down after a cardiac arrest.
Solicitors Leigh Day have described it as "apparent chemical poisoning".
Lawyer Vijay Ganapathy said it was possible floodwater ran off nearby contaminated land into the house.
He claimed Surrey Fire and Rescue Service found hydrogen cyanide after the incident, but the fire service has not commented to the BBC.
'No diagnosis'
Surrey Police said in February a post-mortem examination found no clear cause of Zane's death.
The force has since said the investigation remains ongoing and further tests will take a number of weeks.
Mr Ganapathy said Zane, like his father, suffered a cardiac arrest, but the hospital had not been able to reach any diagnosis.
He said Zane's mother, Nicole Lawler, was also taken to hospital after becoming ill, but she has since recovered.
'No evidence of risk'
"We understand that the presence of hydrogen cyanide necessitated the clearance of neighbouring properties and a public health warning for those in the area feeling unwell to seek urgent medical assistance," Mr Ganapathy said.
He said if this was the case then more people could still be at risk and a full investigation had to be undertaken as a priority.
But Dr Nick Gent, of Public Health England, said: "Public Health England has not identified any evidence suggesting there is a public health risk, or hazard, to neighbouring properties."
Mr Ganapathy said lawyers were still in the early stages of their inquiry but would be supporting the family throughout the inquest and looking at further court action following those hearings.
Mr Gbangbola told the law firm he has real concerns for the family's neighbours and the wider public in flood-affected areas.
"We are not looking for someone to blame; rather, we are looking to understand what happened and whether this could happen again," he said.
A campaign website called Truth About Zane has been set up with the aim of getting more information about how he died.
The family have urged anyone with information to speak to Leigh Day in confidence.